NEWS:
Europe Adopts Advanced Modular
Modular – catch the wave
With computer modeling and increased demand for green building, high performance custom homes are going modular (a.k.a. "prefab" in Dwell Magazine circles) like never before. Why? Because they are built in a computer controlled environment and transported to the site nearly complete. They are more energy efficient and much stronger. Hurricanes Katrina and Rita proved in numerous studies: modular homes prevailed where stick built homes were washed away.

Not your father's double-wide…
Let's get this out of the way now: modular homes should not be confused with federally (HUD) controlled mobile homes. Your modern design is converted into CAD drawings and built to the exact code for your county* in Maryland. The final product is indistinguishable from traditional site-built counterparts. These videos prove the point:
PROBABLY THE BEST "ALL ABOUT MODULAR" VIDEO EVER POSTED
| | |
| --- | --- |
| | FUNNY AD! |
…Not stick-built either
Modular's benefits are impossible to attain stick building. Once you recognize the advantages of indoor construction and the economies of scale we enjoy you'll wonder why anyone would build their home (beyond remodeling and smaller additions) outdoors. And customization is not only available, it is de facto… we've never built a modular plan "off the rack."


Better, faster... for

less

?

Depending on some variables, you will get better quality on your project, AND:
1.
Construction in 1/2 - 1/3 the time
2.
At least 10% savings

plus

less loan carrying costs

Tell us more about your project...

*
Finish Werks builds in Anne Arundel, Baltimore, Charles, Carroll, Harford, Howard, Montgomery, Prince Georges, and Queen Anne counties, but is licensed in all counties and may
deliver ModularDirect and/or
Turnkey to greater Maryland depending on project conditions. Please inquire.
Take a look "under the hood"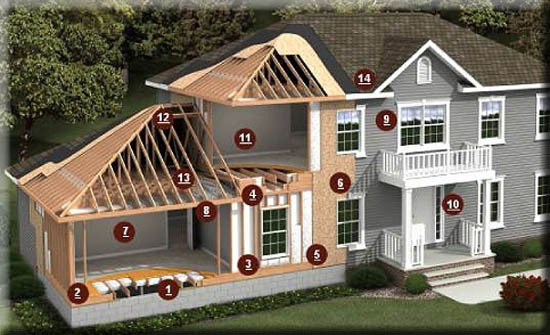 HOME:
1. Floor joist
2. Floor decking
3. Exterior wall studs
4. Exterior wall top plate
5.

Exterior wall insulation

*


6. Exterior wall sheathing
7. Interior wall studs
8. Ceilings
9. Windows
10. Front door
11. Drywall
12. Roof trusses
13. Roof insulation
14. Shingles
SYSTEMS:
HVAC
Water Heating
Appliances
Lighting


2

x10 floor joists 16" O.C.


3/4" T&G OSB floor decking glued and fastened


OVE (optimum value engineered) 2x8 exterior walls 24" O

.C.
Double 2x8 top plate


Knauf EcoBatts

+ DOW Styrofoam Insulation =

R33


7/16" structural OSB sheathing
2x4 interior wall studs 16" O.C.


8'-10' ceilings




Super-Lo

w "E" Argon gas filled Windows with Grids


36"

ThermaTru 6-panel w/ half-moon window


1/

2" (walls) 5/8" (ceilings) with smooth finish


En

gineered roof trusses to snow-loads +


R38 fiberglass batt insulation

+ blown cellulose =

R55




30

year architectural asphalt roof shingles

Mitsubishi HiPer Heat Pump w/ Smart WiFi Thermostat
Hybrid heat pump 50Gal or demand/tankless or gas-fired
Energy Star Tier One
LED and Solar/rechargeable

NOTE: specifications can and do change, sometimes without notice
* Download details on our Super Walls
From the International Builders Show...
10 Reasons to Go Modular
Sheri Koones, author of the modular housing book, Prefabulous, shared 10 reasons builders can share with prospective buyers why to buy a modular house.

"My previous two books - Prefabulous and Modular Mansions were meant to change people's perceptions of prefab as "doublewides" and to show that almost any house can be built prefab. I hope that I've altered peoples perceptions of prefab, at least a little, with the beautiful houses included in these books. Prefabulous + Sustainable is meant to inspire homeowners to consider more environmentally friendly options for their home. Whether they are building a new home or renovating their existing one, Prefabulous + Sustainable defines many of the aspects of green construction and offers some inexpensive alternatives to creating a healthier, more energy efficient house that is gentler to the environment. Readers are sometimes disappointed when they pick up my books and find they don't include enough information to actually build their homes." Sheri Koones
Faster construction time
Less obtrusive to the neighborhood during construction than a stick-built house
Greater structural integrity and greater quality and process control
Materials protected from the weather
Multiple cost savings with materials, labor, refuse removal and reduced risk
of vandalism and theft
Longer warranties
Reduced risks from predictable costs
More sustainable, less waste and less chance of mold
Greater energy efficiency
Easier to build in remote locations
Koone's book, Prefabulous + Sustainable came out April 2010