Active/Completed Projects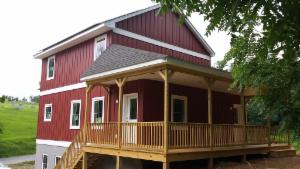 ZERO ENERGY HOMES on the Maryland Solar/Green Homes Tour:

(click the links below)

2,500SF 2-Story, Basement w/ Solar Power and a GREAT OWNER LETTER
4,200SF Ranch, Basement w/ 3-Car Garage, Age-In-Place, Geothermal, Luxury
** Construction and Energy Specs for ZERO ENERGY **

Click on the image below to download an Adobe PDF catalog of some of our work.
Note that EVERY project you see is modular or prefab construction.
NOTE: each project has active weblinks so you can click and download floor plans or
Google Maps or YouTube videos (and News broadcasts) of our projects:

You can see from our body of work that while we work all over Maryland, our performance is the same: HIGH. It doesn't take a million$ budget in order to build a custom home or add-on a very energy efficient, comfortable, quality addition.

We are full custom regardless of budget… you can finish with basic materials or go with Italian Marble and Brazilian Walnut flooring. There is no difference in durability and strength. There is essentially no limit to what you can build.
WHAT OUR EAST COAST FRIENDS ARE DOING WITH MODULAR
(click the homes)
Follows is an example of the super-high performance wall assemblies we use as part of our building envelope. Insulation, thermal break, detailed air sealing, dew point analysis... it's all in here:
Here's a quick PDF of more details of construction of our
Super Walls
. NOTE: with modular construction economies the price is always right.