"Work and live to serve others, to leave the world a little better than you found it and garner for yourself as much peace of mind as you can. This is happiness." -- David Sarnoff
What is "TRUTH In Building" ?
(and miscellaneous ramblings by our owner)

Truth: \trüth\
noun
1.
fidelity; constancy; steadfastness; faithfulness

2. sincerity in action, character, and utterance

At Finish Werks

Truth

means Accountability
to our clients:
+ Staying close to and maintaining constant contact with every client
+ Answering questions and (over-) educating clients on their project
+ Admitting our ignorance where due; then finding honest answers and delivering solutions in a collaborative way

Truth in Building

also drives

Performance

of the projects we build:

+ New homes & additions MUST ADVANCE antiquated, conventional building techniques with genuine, lasting quality and delivery in 1/3-1/2 time.
+ Your home should protect your health and increase your comfort & well being for little or no net cost.




Finally,
Truth

is being honest with Mother Nature, and building

Sustainably

:

+ It's June 2008 as I write this... if you haven't noticed the incredible "green movement" taking hold in America, then I unabashedly applaud your ability to browse our website while living under that rock!
+ Seriously, "building green" or "building sustainably" is without demerits. No matter how much of a paradigm shift you may encounter getting on board, 'building honestly' is never a bad thing. It's good for you; it's good for America; it's good for our planet. And we'll help you get there.


Some kind words from inquirers, clients, and industry pros...



EMAIL thanks for BIG help

-

"Your honesty and up-to-date knowledge was refreshing, and I believe that you saved me from making a huge financial mistake that would have jeopardized my family's health..."





BLOG Modular Home Builder

- "

I met a builder last week in Maryland, Harris Woodward, of Finish Werks

, that I think knew more about green than most builders ever will..."



EMAIL customer gets no information

-

"You seem to be very knowledgeable and it's very nice to talk to someone who is so realistic..."



C

onflict Resolution

"A

voiding a problem doesn't solve it."

-- Bonnie Jean Thornley
If there is one thing contractors are infamous for, it's walking away from challenges. This explains much of why we're called contractors - we are asked/required by the government to execute contracts with clients in order that they be protected from a notoriously difficult process.
One of the few advantage of building onsite (one stick at a time) is the ability to make changes on demand. And while this often invites shady corner-cutting, this flexibility to make field adjustments means less time planning and organizing. With modular or prefab construction, we must cross all our "T's" and dot all our "I's" before releasing your home for production. Everything is checked and re-checked. Because once your project "goes online" (begins the production process in our factory) we relinquish our ability to make changes*. The train has already left the station.
THIS IS GOOD!
"Commitment is what transforms a promise into reality." -- Abraham Lincoln

It forces everyone at Finish Werks to be committed to your project. We walk our talk. While Joe Stick Builder can get lazy on his details (and hopefully fix them later), we cannot. We have to bring our A-Game on every project. Your home arrives on your lot largely completed. This level of commitment is what transforms our promise into your reality. And eliminates conflicts before they become serious problems.

When problems do arise, we act on them quickly. Are we perfect? No! But we must always be trying because our reputation is on the line.

* We have been known to make changes in the middle of the production line when we

have

to. We treat our factory reps with respect
and our good will is returned.

Experience
"Management has 9,460,800 minutes of combined Industry Experience!"
How many times have you clicked the

About Us

button on a website and been greeted with this pandering platitude next to an exaggerated mug shot?
It's not the years of experience a man has, it's the character that makes a man, and woman, for that matter. There are plenty of folks with 21 years of schooling that have trouble tying their shoes. Maximizing one's education and experience is critical in, say, nuclear engineering. But, like medicine, when it comes to handling a critical situation like the single largest investment you'll ever make, open communication, bedside manner and real empathy must walk alongside experience.
And by the way, if you happened to pull out your calculator you already noticed that our
9,460,800 minutes of experience
in construction, design, and renewable energy systems equates to 18 years. Give or take a few.
> Staff at Finish Werks NEVER take themselves too seriously... smiles on our clients' faces are both the cause and effect of a quality project!

7 Reasons To Build With Finish Werks...
Because we:
Provide Energy Audits on new homes, FREE
We're so confident in the energy efficiency of your home - with or without ENERGY STAR status - that we'll have our HERS Rater test your home to confirm maximum efficiency. No charge. Feel free to wear the results on your sleeve... the energy you save would make a hybrid vehicle blush.
Retrofit existing homes with Green Materials & Technology
We strive to accommodate everyone's budget. If a new home is not in the cards and a new addition just won't fit, please invite us out for the aforementioned Energy Audit. For a nominal fee you'll quickly discover the things you can do to conserve energy immediately. At your request we'll also review alternative energy options and ways to green your home into a more comfortable, healthy environment.
Include a 10-Year Warranty on our new homes
Our homes (and most modular additions) include a 10YR structural warranty. Most other builders include either 1YR or a disclaimer stating a lack thereof.
Create designs from scratch
Like an architect, we can design your floor plan from scratch, sectioning your home into code-compliant modular sections that may be built and transported to your site for assembly. Unlike an architect we charge just $75/HR. We know of no other modular builder in Central MD that will design and spec an entire home from scratch.
Give you "The Modular Home" FREE with your Preliminary Drawings


Considered the "bible" by many in the industry, 'The Modular Home' is a well written symposium on the superiority of modular design, and understanding construction from beginning to end.
Listen to You
There is no substitute for having the ear of your builder. And you cannot get it with a sales rep at a production builder (but then you can't really get what you want either), or even with a regional builder because their focus is on large property developments.
Refer you to other builders – you're going to shop anyway; we save you the time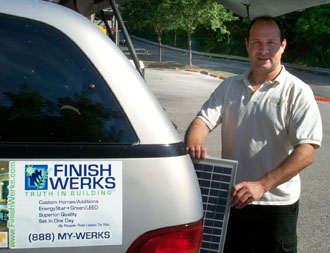 Find information and links directly to our competitors throughout our website.